If you have a crafty artsy kiddo then you are always looking for new stuff to spark the creative juices! When offered the chance to review these Thin Stix 6 pack of Classic Colors I just couldn't resist! These are made by The Pencil Grip, Inc. They have all kinds of nifty little products besides these so check them out for sure!
They have bigger packs available and even different colors of paint. I know Skyler really wants to try the neon pack next and she has already told grandma about the creativity pack. It has glitter so as far as my kiddo is concerned it is already a winner! They even have a pack that includes a paper roll. That would be wonderful for on the go fun. They are also available at Toys R US. Besides the painting products they also have fidget items and cute little pencil grips!
These little guys are a no mess kids art supply! It dries in ninety seconds or less! I know that usually when you think of the fast drying types of paint products you think of younger kids but Skyler is 12 and had a blast with them. It is always nice to give a kid different options no matter how old or young they may be. They are made of tempera paint and of course non-toxic. I also noticed they didn't have a bad odor like many of the quick drying type paints we have used in the past.

She has to take a picture with all her cool stuff!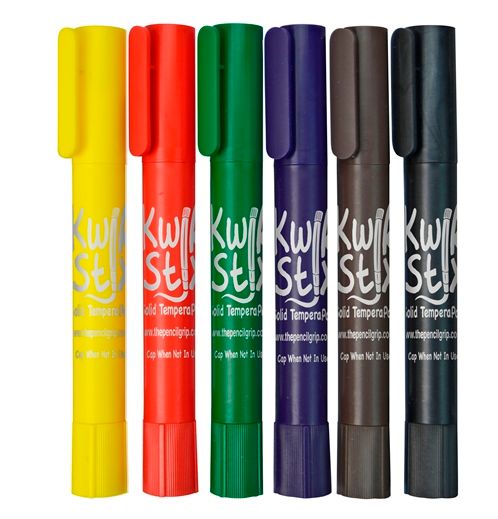 She loves drawing her animals. So the first thing she rushed to make was a portrait of her favorite, a cat named Kathy Jones. She decided to use regular card stock to paint with but you could use anything really. I plan on picking her up some little canvas boards to try out with these at some point.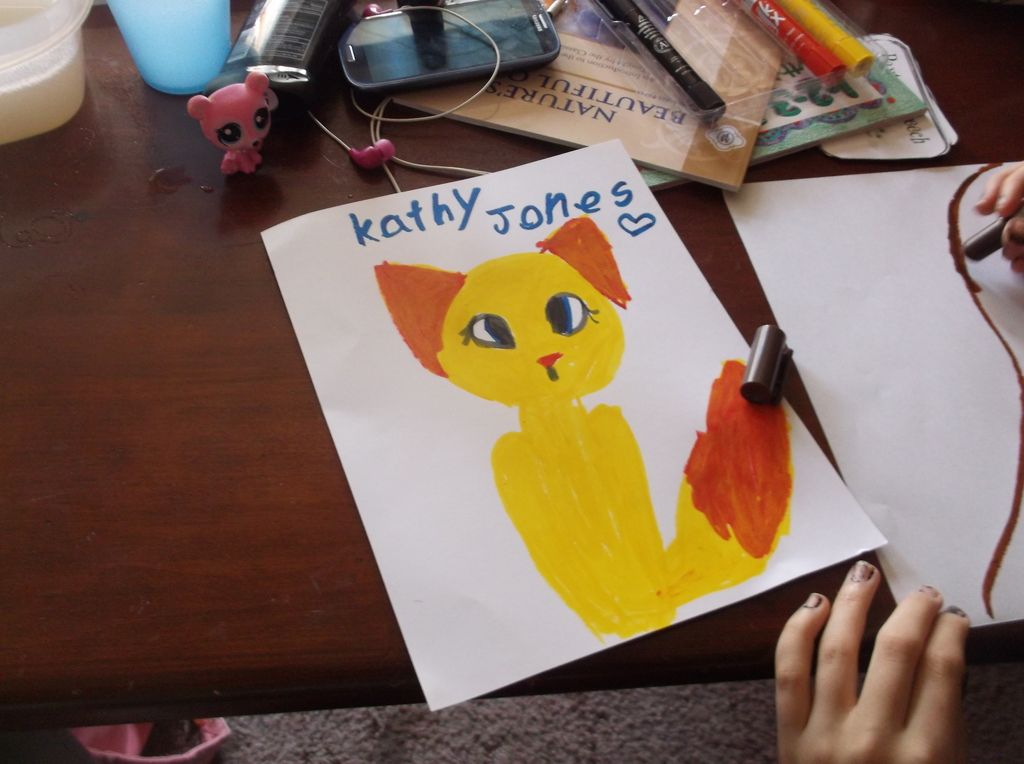 After that she decided to make some vines and pretty flowers.
She did use her finger to try and mix the colors a bit and surprise, it didn't make a huge mess on her hands. That is great for me because like most kids she will use her shirt first before grabbing a towel to wipe it off.
Skyler informed me her favorite parts of the Thin Stix were they were almost like a pen. She didn't need to worry about having a cup of water near by. She really liked how bright the colors were as well. She loves painting but her control of a paint brush for detail is something she is still mastering so this was a great option for her to have. All in all it was a win for the art supplies cabinet!
Now for another great thing about this company they have generously offered to allow me to do a giveaway!!!!! It is my first so I am overly excited! So between now and May 31, 2017 every one who leaves a comment will be entered into a drawing for a free set of these awesome paint sticks! I will be announcing the winner on June 1, 2017 on my facebook page here. Make sure in your comment you leave me your e-mail address as well.
To connect with The Pencil Grip, Inc. on social media here are all the contacts!
While you are searching around feel free to check out some other great reviews on this product from the amazing Homeschool Review Crew!