For my son writing is actually worse than pulling teeth! I had always heard great things about Institute for Excellence in Writing or IEW, so when offered the chance to review the product High School Essay Intensive I thought it was the perfect chance to try this company out. I am so glad I did too! The author Andrew Pudewa is truly a gifted speaker.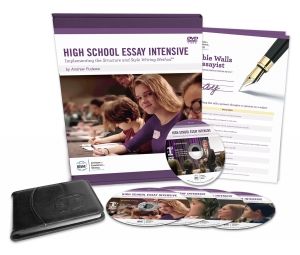 Fox dreads writing, I mean he hates it more than math which says quite a bit! We have tried a few different writing programs before but he was never really able to grasp any of it. To him it was dry, dull and boring. As far as he was concerned he could tell a great story and that was enough. Finding a program to really get him to understand how to put his thoughts in order and on to paper has been a challenge. I think we have finally found the answer!
This is the second edition of High School essay Intensive. It was updated in 2016 for the new requirements on the SAT and ACT tests. I truly appreciate a company willing to go the extra mile in updating products, to me that shows they really care. They want your child to succeed.
The program is on DVD which I have realized lately is great with my son. He can go over and over something until he gets it without asking me a dozen times the exact same question. It comes with 5 DVDs in a leather folio. This is a nice case and protects them very well. It also makes them easy to store or take on the go. It has student handouts which right off I enjoyed because it was teaching my son ways to take notes. That is an important skill to have. The last part is the Portable Walls for the Essayist. This is a tri-fold of priceless information in my opinion!
So on to how we are using this product! Fox is a fidgeter and cannot sit still for very long at all. This is the main reason I chose home school for him so many years ago. This is also why I have come to love DVD programs. They don't have to be done in one sitting. He can start with so many minutes and work his way up until he can stand longer periods of time. I had said 15 minutes a day and by the second day he was up to 30 on his own! Andrew Pudewa is like I said a gifted speaker! Fox didn't have the usual this is boring complaint. He cracks jokes, he talks in a down to earth way not making the kid feel totally overwhelmed with information bog down either.
This was another issue I had always had for Fox. He is hyper and most lessons are just too dry to catch and keep his attention. It was wonderful learning there is a program out there that will work with our hyper active kids! Fox had no issue following along and being able to pause to write down notes and what not while watching the DVDs.
He finally realized that note taking is not this terribly hard thing where he has to hurry and form sentences and worry about grammar.
I wanted to include some pictures of the portable wall so you will have a better idea on exactly what it is. The part Fox liked the best about it was the inside pocket so all his notes and such had a safe place to be and he didn't need to worry about them being scattered or lost.
I feel this is a great program for not only kids who are worried about college but for kids who just need some help getting their thoughts organized and put on paper in a more understandable way. The program is not horribly expensive either. It is only $79 on their website. You can purchase additional student materials or make copies within your own family.
To connect with IEW please feel free to join any of their social media pages.
Facebook:
https://www.facebook.com/excellenceinwriting
YouTube:
https://www.youtube.com/iewtv
Twitter:
https://twitter.com/iew
@IEW
Pinterest:
https://www.pinterest.com/iewriting/
To read some other great reviews on this product please check out these awesome review crew writers!