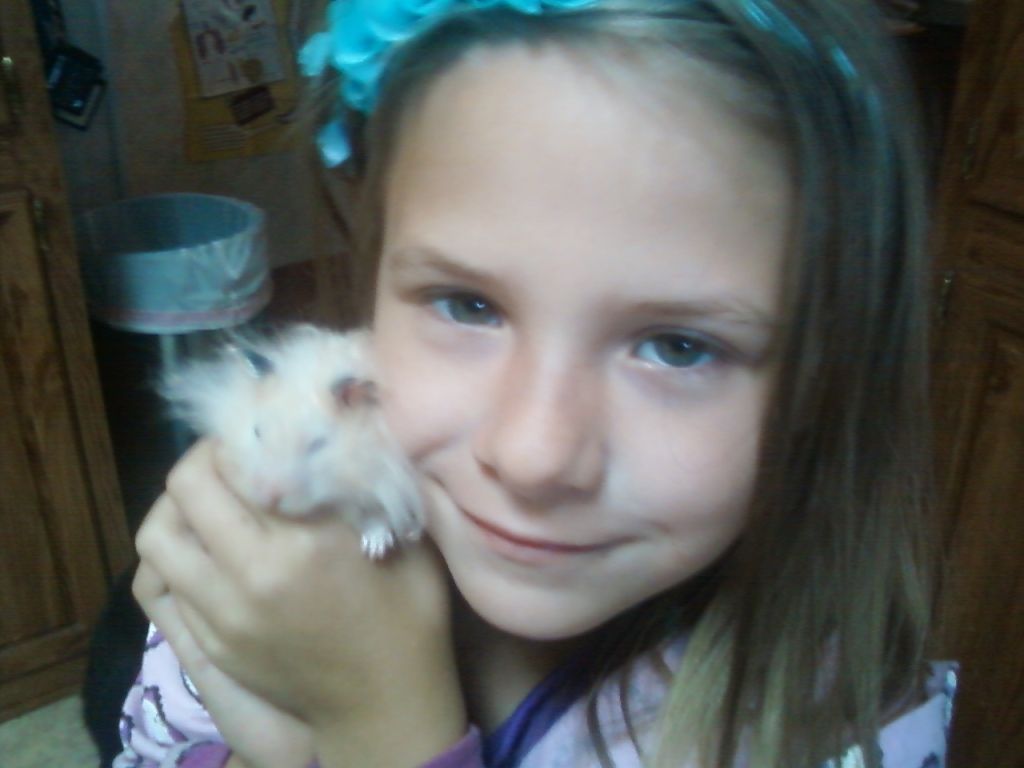 This is Skyler and Huggies. The strongest little hamster I have ever heard of. Huggies was a gift from daddy which made him all the more special. When they brought him home the pet store had told him that Huggies was young and he would get bigger. That was a lie I have been around hamsters a while and Huggies was no youngin! I thought great he won't live long. That was a bit over two years ago. I have read quite a bit and it said most hamsters don't live long enough to go blind, he did. Most will die after going blind, he has been this way over a year now.
Most will die from wet tail, he has survived it...twice. I know in my heart I should have put him down but I teach the kids that these pets are our family and I didn't want him to die alone on a vet table. For two weeks now he hasn't been able to get down his tube so we have been hand feeding and holding his water bottle for him. Cleaning him daily. all the kids have helped take care of him. Lastnight I noticed he wasn't breathing well so I wrapped him up in a paper towel and we all held him and talked to him, the kids even made him little cards.
What amazed me is a few weeks ago when he really started slowing down I heard my little girl tell him he couldn't leave her. He was her bestest friend and don't leave her. About a week ago I heard something else. I heard her tell him he could go. That she would be OK she knew he was tired she loved him and he could go. I heard my youngest son tell him he would take care of Skyler that he could go to Heaven no one would be mad. Still Huggies held on.
I checked on him throughout the night. Petting him telling him we loved him. This morning I went to his cage. He raised his little head, took a big breathe and fell asleep forever. He fought so hard to stay with his kid. He was the strongest, bravest little hamster I have ever heard of. I know when my little girl wakes up her heart is gonna break. I am heart broken. But he fought so hard he deserved the rest. Animals have a way to win your heart, and I think make us a bit better for being there.