My son Fox was thrilled at the chance to use First Form Greek Complete Set by Memoria Press. This is a wonderful company who has classical christian curriculum. He is completely amazed by ancient history and when offered this as a review item he was delighted!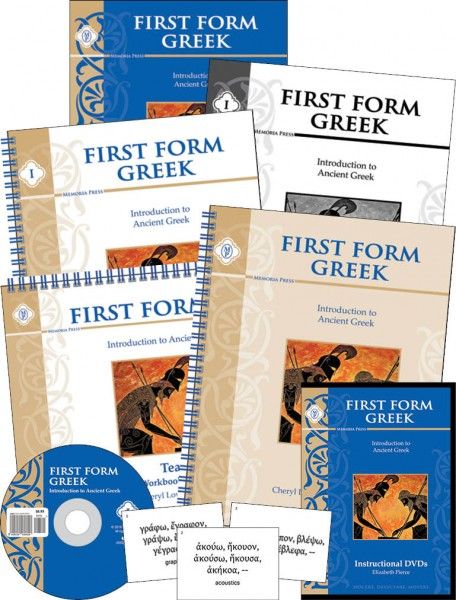 I cannot get over all the wonderful items that are included in this set either. It truly becomes alive with all the great tools included. He was so excited the day he started. He was all smiles which is so strange for a kid who hates school!
The set includes a student textbook as well as a workbook and a book for quizzing and testing. There are also flashcards for the student. It also has a teachers manual and answer book for the quizzes and tests. While these are wonderful by themselves the greatest thing included I felt was the DVD lessons and the pronunciation CD. These are just priceless and were a huge help to Fox who learns more by seeing and hearing. I love programs that use more than one sense in teaching something. Almost everyone in my family uses a multi sensory approach to learning new things. In this avenue Memoria Press hit the nail on the head! The suggested ages/grades for this set is grades7-12.
This is a full complete set and challenging as well. While you do not need any prior knowledge of the language knowing the greek alphabet is helpful yet again not required. You can always spend extra time on the first lesson learning it like my son had to do. In case you would like to learn more about the alphabet they do a have a workbook you can buy just for that as well. It is called The Greek Alphabet Set.
He really enjoyed being able to listen and watch the DVD over and over again until he could say things just right.
I had no problem at all getting him to do the book work part of the lessons either. He enjoyed writing the "funny letters" as my daughter called them!
My son has never really had any interest in learning a second language so when he begged to get this program I knew he had to have it! Going into this I had never even used Memoria Press products, never really even looked into them to be truthful. I am so grateful that I had a chance to learn about this wonderful company by reviewing such a great product. The materials are great quality and my son has truly enjoyed using them.
Memoria Press is very active in social media as well. Please feel free to visit and learn even more about these great products, not only First Form Greek but the countless others as well!
Facebook:
https://www.facebook.com/memoriapress/
Instagram:
https://www.instagram.com/memoriapress/
Twitter:
https://twitter.com/MemoriaPress
@MemoriaPress
Pinterest:
https://www.pinterest.com/memoriapress/
For more wonderful reviews on many of the products please visit all the other great reviewers!!