My daughter has been amazed by the book Bessie's Pillow for the past few weeks. We were offered this book by Strong Learning, Inc. this month as a review item and it has been wonderful! She has really enjoyed reading this book.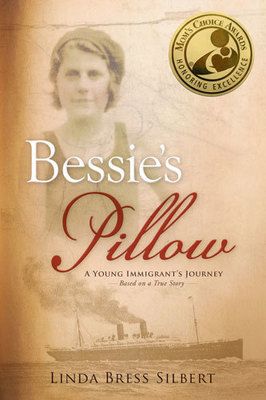 Skyler truly enjoys pictures with her favorite books and this has become a true favorite for her!

This story is of a young girl immigrating to America on her own. It has some sensitive topics, yet the author is very good at taking it down to a non fearful kind of way. A parent may wish to discuss these things with a younger child, or perhaps read the book together. Skyler is twelve and we usually discuss things like this together. I allowed her to read this book on her own as part of her school.
This is a true story and that makes it more "real" for my kids. My kids especially my daughter enjoys reading books from the point of view of the person writing the book all the while knowing these things actually happened. I believe that these types of books make history come alive for children as well as adults. This book is so well written that you can just imagine the scenes and the what it was like at that time.
Which brings me to my next favorite part of this book, the online guide Bessie's America. I cannot say enough about this page and my daughter took to it like a fish with water!
This page is packed with history! You can listen to old radio shows, watch newsreels and even get some cool recipes! Skyler just loved looking through the pictures and listening to everything she could. Seeing all this also opened up new topics as well. She wanted to know more about that time period. Materials that lead to "rabbit holes" are a great addition in my opinion. They get exposed to many different things which leads them to wonder about more. I feel that is what home school is all about. Expose them to everything possible and feed their imaginations! This page does that.
Again these are the types of things that make history come alive for my kids! Of course we had to try a recipe as well! Skyler enjoyed the Peach Melba treat!
She made one for her and each of her brothers!
I really cannot say enough about this book. My daughter just loved it. It is a wonderfully told true story and it grabs the readers attention. A good book tells you a story, a great book takes you to the story. This was a great book! It can be enjoyed by the young and the old alike. More stories like this should be told.
While I gave this book to my daughter thinking she would find it the most enjoyable I believe it can be enjoyed by boys as well! There is plenty of adventure to read about and the online guide sparks even more imagination.
There is also a facebook page dedicated to this book!
There are many other reviews of this book as well if you would like to know even more!