Both of my children are fascinated with other cultures and they absolutely love learning about the languages. When I was given the opportunity to review Hey, Andrew! Teach Me Some Greek! - Level 3 Set from Greek 'n' Stuff I knew Skyler would be extremely interested! She has never had any form of instruction in the Greek language so she was given the Level 3 set to use, this is intended for students in grades 4 and older. This level is for those who have completed level 2 or older newbies which is what my daughter is. She is in grade 7, and this was just right for her!
There are a total of 8 levels in the Greek series so there is one for every skill level out there!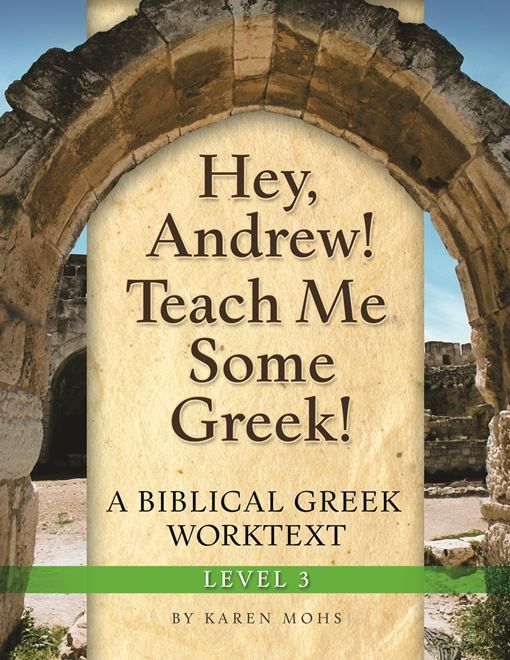 For our review I was given the Level 3 student text, answer key and the pronunciation CD, which is used in levels 3 and 4. The student book consists of 36 lessons, and it is basically a page a day activity. If you decide to use the page a day then the curriculum will last for a full school year. Obviously you can always plan this around your schedule. I just love flexible programs! The first part of the Level 3 set starts out with quite a bit of review which is why this level can be used by those who have no previous instruction.
The back of the student text also includes flash cards that can be cut out and used for student practice. The program is very open and go requiring almost zero prep! That is another great point for us! The teacher key is also full of great tips for teaching and giving instruction.
One of the most important parts to this (well in my eyes) is the handy pronunciation CD. I have never understood foreign language programs that are strictly by the book. My children want to hear exactly what it is they are learning, not hoping they are reading it right! Skyler enjoyed listening to the Greek Alphabet song a great deal. It almost reminded me of the tiny toddler who rewatched Chica Chica Boom Boom over and over again until she knew her alphabet at the age of 18 months! Skyler has always adored musical tunes and they have worked wonders for her to remember things since a very young age.
The CD is even marked with the page and lessons that it is used with so another win for us as well. That leaves no guess work for the mom who has absolutely no clue about Greek! It was fun watching her play Animal Jam on the computer and listen to the CD with headphones, she would be so loud in repeating the letters and words and of course other than my son Fox who has had some Greek, none of us knew what she was talking about!
She was excited to open the package and had to pause for the picture because she was running for a pencil! She was so thrilled to start the lesson she didn't even notice the CD so when I put it in front of her she had to stop the workbook and run off to hear the CD! The lessons seem to take Skyler an average of ten minutes or so per day depending on how long she takes to make her writing just perfect! She really enjoys the different forms of the Greek letters. She calls them swirly letters.
This is by far my favorite way of learning a new language, or anything for that matter. Lessons that are short, sweet and to the point yet powerful enough that you are actually learning! The program starts out with learning, for the newbies that is 3 letters a day or if you have had previous instruction you will be reviewing. After that you will start learning words.
The student workbook is consumable so each child will need their own. Considering both of my kiddos enjoy doodling all over their pages I always have to get each kid their own thing anyway! One other bonus in my opinion is the cost of the program. The answer key as well as the student workbook are just $21.95 each and the CD is only $10.00. So many foreign language programs cost a fortune in my opinion so cost is always a BIG factor for my homeschool.
I would recommend this program to kids or adults that are interested in learning Greek. Skyler truly has enjoyed the lessons she has worked through and will be moving on when our summer break is at its end and the new year starts!
Other than this great program Greek 'n' Stuff offers many other wonderful homeschool materials. They of course have the other Greek levels, courses in Latin and many Bible Study books. They love to connect with new people and have social media pages you can connect with as well.
The review crew were all given different products so please feel free to not only read about Level 3 that we used but the other great things as well!